Online Driving License Registration Form Nepal 2023: In Nepal, a driving license is an official document that authorizes its holder to operate various types of motor vehicles on highways and some other roads to which the public have access.
The Department of Transport and Management, Government of Nepal, has introduced a much more comfortable and convenient way of applying for a Driving License online. You can now apply for Driving Licence online and select a suitable date and time to appear at the designated Department of Transport for the same.
This article will cover the steps involved in applying for a driving License in Nepal. An individual who wants to drive any type of motor vehicle in Nepal has to get his/her driving license first. So here you will get all the information about how to apply for new driving license in Nepal online.
Online driving license registration form Nepal 2023
| | |
| --- | --- |
| Name | Online driving license form Nepal |
| Announced by | Department of Transport and Management |
| Age limit | 18 years above |
| Profitable | Citizen of Nepal |
| Application Process time | 10-14 days |
| Official Website | applydl.dotm.gov.np |
Check>>> Driving License Result
Documents required for online driving license registration
To ensure that there is no delay in the driving license application process, the documents that are to be submitted have to be valid and correct. The lists of documents required for a driving license are:
Birth Certificate
Citizenship Card
Voter ID Card
Passport
National Identity Card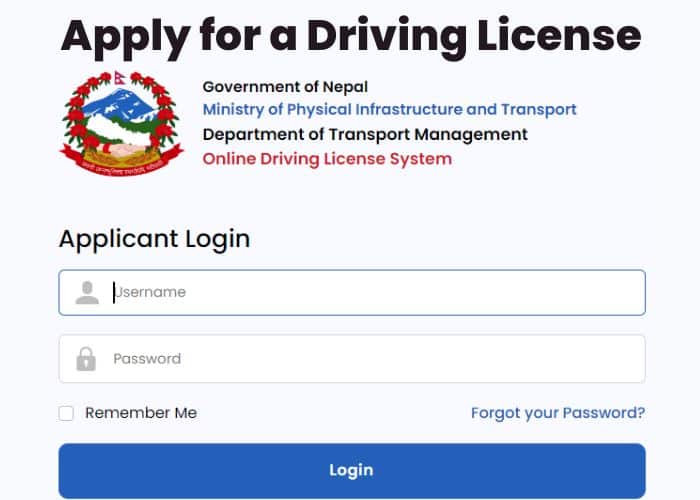 How to Apply for Online Driving License Registration Form Nepal applydl.dotm.gov.np
The procedure to apply for a new driving license in Nepal is very simple and straightforward. The steps given below will help you understand how to apply for a driving license online on new system. The process for filling out an online application for registration of driving license is as follows:
Step 1: Visit the official website of the Department of Transport DOTM applydl.dotm.gov.np
Now Select the application login page and sign up first.
Step 2: On this first page, you will need to provide your details and phone number. You will receive an OTP to your registered mobile number, and after entering the OTP, you can proceed to the next step.
Step 3: Fill out your personal details in this step. Upon clicking here, you will be directed to a page where you will fill out your personal information.
Step 4: Next, you will need to enter your current and permanent addresses and submit them to proceed.
Step 5: In this section, you need to provide citizenship details. Moreover, you will have to provide both front and back images of your citizenship. If you wish, you can also provide information about your passport.
Step 6: In this section, you need to select the license category and the preferable province and office to obtain your license.
Step 7: Once you have selected the preferred province and office, you must select the desired testing date. You can, however, only select the days when the quota is still available. On the right side of your form, you can see the occupied days.
Step 8: Click the Apply button once you have selected your desired date. You will receive an OTP code on the mobile number you registered.
Step 6: Once you enter the OTP code, you will be redirected to another page where you will be informed that your application has been submitted.
Step 7: On this page, you will also see your application details and payment details. At the bottom right of the page, click the button that says Proceed with payment after checking the information.
Step 8: At this point, all your information will have been recorded by the system, and you will receive a notification of your driving license online application form.
Driving License Online Form 2080 Important Links
To apply for the Driving License Registration Online Form in Nepal: Click Here